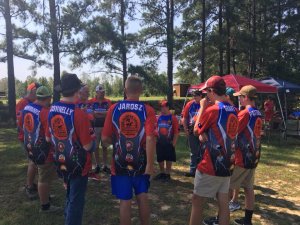 Shell Shockers is a Youth Sporting Clays team serving young men and ladies across the upstate of South Carolina.   The team competes in Sporting Clays, Skeet and Trap events hosted by a mix of organizations including South Carolina Youth Shooting Foundation (SCYSF),  4H/SCTP Scholastic Clay Targets Program,  South Carolina Sporting Clays Association, and South Carolina DNR.
Our team registers our athletes annually with 4H/SCTP, SCYSF and SC DNR.  Most of our athletes also are registered with one or multiple national governing boards such as NSCA, NSSA and ATA.
The Shell Shockers team is also a charter partner with the Palmetto Council of Boy Scouts of America to provide kids in Scouting the opportunity to leverage our regular program as a shooting sports focused Venturing Crew.  Crew 1220 allows older scouts to cross-register as a Venturer and participate as a Shell Shocker team member in the BSA nationally approved SCTP program. The BSA Venturing program and Shell Shockers Crew 1220 are co-ed programs.
Shell Shockers practice at the Clinton House Plantation, located at 15171 SC-56 in Clinton, SC and Spartanburg Gun Club at 180 Fretwell Road, Pacolet, SC.
If you're interested in joining our team, please use our contact form and one of our coaches will reach out to you.